Posted to aescripts.com by Andrew Yang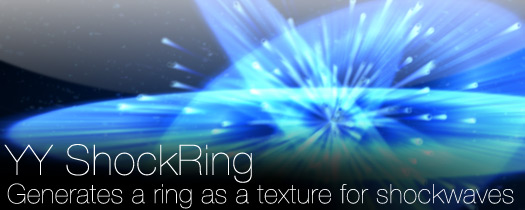 This plugin generates a ring as a texture for shockwaves, etc for visual effects. It has enough options to be fairly flexible, but not so much as to be overbearing.
Download the Free Plug-in at aescripts.com
Options are:
Center: Center point for the ring
Radius: Radius of the ring
Feather: Softness of the ring's outer edge
Expansion: Thickness of the ring
Opacity: Opacity of the ring
Color 1: Color near the outside
Color 2: Color near the inside
Smooth: Smooth interpolation (as opposed to linear)
Render Mode:
None: Render on transparent
Normal: Render on background
Add: Additive blending on background
(Stencil) Multiply: Reveals the background, kind of like stencil alpha
(Stencil) Multiply+Alpha: Same as above, but on transparent
.